Collection
Is a furnishing system capable of creating work places where people can identify themselves with the surroundings (the work place is an integral part of the of one's life). The different types of single or combined conference desks and storage units are versatile and functional support elements to the office's effectiveness.
Their architectural design is light and soft with rounded edges and the range of finishes (glass, wood and colour) allows them to be adapted to different situations, requirements and personality. The worktops are supported
by metal frames with independent branching support structures or connected to the multipurpose drawer unit, the functional efficiency of which is guaranteed by the integration to the mains power supply and computer
network by means of channels attached beneath the desk top and utility boxes.
(H - L - P)
PR180
73 – 180 – 91
PR200
73 – 200 – 91
(H - L - P)
PR181
73 – 180 – 91
PR201
73 – 200 – 91
(H - L - P)
PR182
73 – 180 – 91
PR202
73 – 200 – 91
(H - L - P)
PR183
73 – 180 – 91/182
PR203
73 – 200 – 91/182
(H - L - P)
PR184
73 – 180 – 91/182
PR204
73 – 200 – 91/182
(H - L - P)
PR180V
73 – 180 – 91
PR200V
73 – 200 – 91
(H - L - P)
PR181V
73 – 180 – 91
PR201V
73 – 200 – 91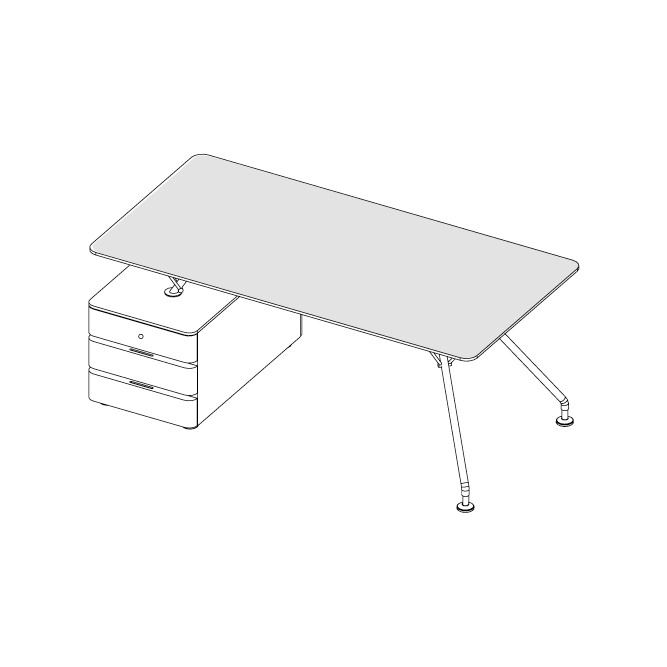 (H - L - P)
PR182V
73 – 180 – 91
PR202V
73 – 200 – 91
(H - L - P)
PR183V
73 – 180 – 91/182
PR203V
73 – 200 – 91/182
(H - L - P)
PR184V
73 – 180 – 91/182
PR204V
73 – 200 – 91/182
(H - L - P)
PR180LB2
73 – 180 – 91
PR200LB2
73 – 200 – 91
(H - L - P)
PR181LB2
73 – 180 – 91
PR201LB2
73 – 200 – 91
(H - L - P)
PR182LB2
73 – 180 – 91
PR202LB2
73 – 200 – 91
(H - L - P)
PR183LB2
73 – 180 – 91/182
PR203LB2
73 – 200 – 91/182
(H - L - P)
PR184LB2
73 – 180 – 91/182
PR204LB2
73 – 200 – 91/182
(H - L - P)
PR180LB3
73 – 180 – 91
PR200LB3
73 – 200 – 91
(H - L - P)
PR181LB3
73 – 180 – 91
PR201LB3
73 – 200 – 91
(H - L - P)
PR182LB3
73 – 180 – 91
PR202LB3
73 – 200 – 91
(H - L - P)
PR183LB3
73 – 180 – 91/182
PR203LB3
73 – 200 – 91/182
(H - L - P)
PR184LB3
73 – 180 – 91/182
PR204LB3
73 – 200 – 91/182
(H - L - P)
PR180L
73 – 180 – 91
PR200
73 – 200 – 91
PR180LS
73 – 180 – 91
PR200LS
73 – 200 – 91
(H - L - P)
PR181L
73 – 180 – 91
PR201L
73 – 200 – 91
PR181LS
73 – 180 – 91
PR201LS
73 – 200 – 91
(H - L - P)
PR182L
73 – 180 – 91
PR202L
73 – 200 – 91
PR182LS
73 – 180 – 91
PR202LS
73 – 200 – 91
(H - L - P)
PR183L
73 – 180 – 91/182
PR203L
73 – 200 – 91/182
PR183LS
73 – 180 – 91/182
PR203LS
73 – 200 – 91/182
(H - L - P)
PR184L
73 – 180 – 91/182
PR204L
73 – 200 – 91/182
PR184LS
73 – 180 – 91/182
PR204LS
73 – 200 – 91/182
Contact us for more information